I started online dj'ing in 2008, and decided to go out on my own and put together the greatest radio station and dj's.
I enjoy entertaining our listeners, but mostly enjoy when we get such
feedback as we do. It's what makes this all worth it and I'd like to thank
everyone who participates, from the Sr. Minion to the dj's and most of all
the listeners. Besides music, I enjoy spades, and my 2 dogs,
Bailey ( Golden Retriever) and Cody ( Greyhound ).
Bailey is a registered Therapy dog and my wife takes her to visit local hospitals, etc.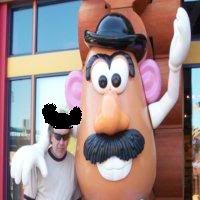 My trip to Disney, I had to add the ears!!!